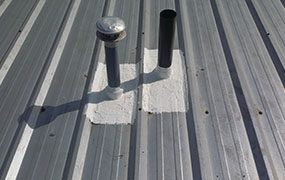 Commercial roof repair is a primary component of The Roof Coating Company's services. Commercial and industrial roofs are designed to be long lasting and high performing. The average life expectancy for a commercial roof can range depending on the quality of the materials, all roofs will develop problems over time due to constant exposure to the elements. Addressing your roofing issues prior to catastrophic failure will save you a lot of time and aggravation and offset a costly replacement.
Don't let small damages compound and grow worse. If your commercial roof is nearing the end of its life expectancy and you are contemplating replacing it you should consider a roof coating and restoration system, call your southeast Virginia roof coating experts, The Roof Coating Company to see if your roof qualifies. It is our mission to keep your roof out of the landfill and money in your pocket by restoring instead of replacing. We are a commercial roofing coating contractor with more than 60 years of combined experience in roofing industry. From small repairs to a complete full system coating restoration, we can handle it – call us today at 757-515-7050.
Commercial Roof Repair Solutions
We offer long-term roof coating solutions backed by the industry' leading 10 up to a 20-year labor and 50-year materials warranty on systems applied per the manufacturers exacting details:
The Roof Coating Company Can Restore or Repair: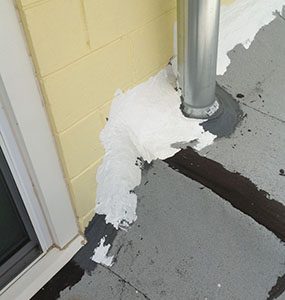 EPDM Roofs
TPO Roofs
Built Up Roofs
Hypalon Roofs
Modified Bitumen Roofs
Metal Roofs
Concrete Roofs
And more!
Commercial Roof Repair & Restoration Specialists
Although The Roof Coating Company is a comprehensive commercial roofing contractor, we specialize in expert installation of roof restoration via our innovative coating systems. The system we install has over 60-years of proven performance and millions of warrantied roofing squares across the country, we proudly offer this industry's leading sustainable roof coating and restoration system to the businesses in the Hampton Road and surrounding areas here in Virginia.
As repairs compound, our roof coating is the best and most cost-effective option get new life out of your roofing system, it can also help save money on energy usage. To see if your roof is eligible for a restorative roof coating, call us today at 757-515-7050.
Our Commercial Roof Repair Service Area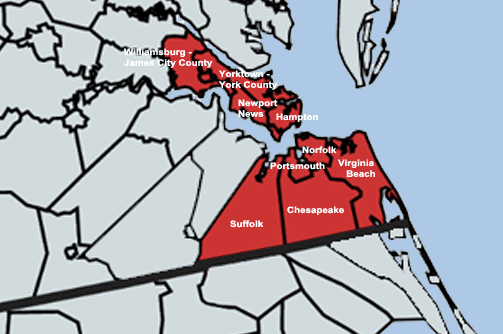 The Roof Coating Company provides a multitude of professional commercial and residential roofing services for the following Hampton Roads, Virginia cities and counties:
Virginia Peninsula
Poquoson
Yorktown - York County
Williamsburg
James City County
Call The Roof Coating Company Today!
The Roof Coating Company is the number one choice among commercial building owners and property managers in Virginia. We offer effective repair and restoration solutions for all your needs. Our associates are licensed and certified, not to mention skilled, friendly, and courteous. Call 757-515-7050 today for your free professional estimate.