The Roof Coating Company is a Virginia Beach flat roof repair contractor. Does your flat roof need repairs? Are you looking for a durable, waterproof, roofing solution? The Roof Coating Company offers sustainable roofing solutions that will also reduce your overall environmental footprint. Not only do we have "green" roofing choices, but our roof coating is an eco-friendly option when compared to replacement. If you need flat roof repair in Virginia Beach, VA, call us at (757) 515-7050 to find out more.
Flat roofs are known for their durability and long lifespan. Your flat roof can last for decades with the proper care. Regular maintenance and repairs are vital in extending the life of your roof. At The Roof Coating Company, we offer flat roof repair solutions that can prolong the life of your roof and delay the aging process. Our roof coating is an environmentally-friendly option to roof replacement.
It is estimated that as many as 70-80% of roofs are replaced prematurely. The Roof Coating Company strives to repair and restore roofs rather than replace them. If you need flat roof repair in Virginia Beach, VA, one of our roof coating systems can bring your roof back to life. Once we apply a roof coating system to your flat roof, you can expect it to be: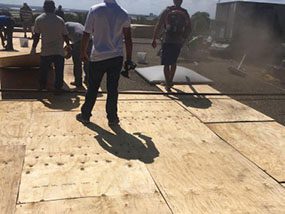 Waterproof
Seamless
Energy-efficient
White, reflective surface
Resistant to mold, mildew, and staining
We Are A Virginia Beach Flat Roof Repair Contractor
Our roof coating will stop leaks and can be applied over pre-existing roof coatings, metal roofs, BUR, and single ply membranes such as EPDM and TPO. One unique feature of our roof coating is that ponding water does not affect it. All other roof coating systems on the market have disclaimers about ponding water because ponding water can void the warranty. However, our roof coating can withstand ponding water, and the warranty will also stand.
Not only is our roof coating an eco-friendly option that will put a halt to constant flat roof repairs, but it is also manufactured out of 37% recycled content which is the highest in the industry.
During the final step in our roof coating system, the topcoat installation, we apply a silicone coating. This silicone coating is the only cleanable solvent-free 100% silicone coating in the industry that can resist dirt pick-up years later. Because it doesn't pick up dirt, it is whiter, brighter, and more reflective of the sun's rays than any other roof coating available.
Make flat roof repairs a thing of the past with a sustainable, environmentally-friendly roof coating from The Roof Coating Company. Your roof can be waterproof, and you can save money on your energy bills now. Call us today at (757) 515-7050 for your flat roof assessment. We'd love to hear from you.