Residential and commercial roof coating, restoration and repair is what we do best here at The Roof Coating Company.  We are your trusted provider of commercial roof coating and restoration services in Hampton Roads, Virginia. As the premier roofing contractor of choice for business owners and property managers in the region, we specialize in sustainable solutions that protect your roof and reduce your carbon footprint. With a foundation built on quality workmanship and customer care, we bring more than 60 years of combined roofing experience to every project we undertake.
At The Roof Coating Company, we believe that sustainable solutions should be the first choice. We strive to integrate "green" options into our repair and replacement jobs whenever possible. Call us today at 757-515-7050 to learn more about the services we offer and start your relationship with a reputable, reliable commercial roofing contractor.
Sustainable Commercial Roof Coating Solutions
Before
After
At The Roof Coating Company, we offer sustainable roofing options for your commercial or multifamily roof repair, restoration, or replacement. We offer several ways to integrate eco-friendly practices into your roofing projects::
Roof Coating Systems: We recommend restoration or preservation through our advanced roof coating system whenever possible, avoiding costly tear-offs and reducing landfill waste. (Did you know studies show that as many as 80% of roofs are prematurely replaced?)
Premium Roof Coatings: Our high-quality roof coatings can extend the lifespan of your roof by decades, providing a durable and eco-friendly roofing solution.
Environmentally Friendly Materials: We offer sustainable options among our roofing materials, eliminating the need for excessive tear-offs and expensive labor costs.
Our Full-Service Roofing Solutions
We provide full-service solutions for commercial roof restoration, including:
Cool Roof Options
Insurance Assistance, and more!
Exemplary, Affordable Workmanship & Customer Service
Before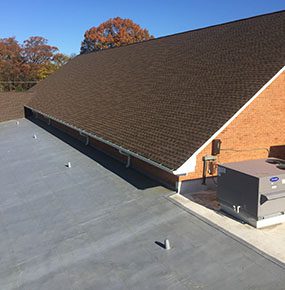 After
Founders Trish and Shawn Saunders established The Roof Coating Company with a commitment to offering higher quality and cost-effective roofing solutions while reducing their environmental impact. We collaborate closely with our customers, providing transparent information and sustainable roofing choices for every project. Our mission is to find realistic, eco-friendly solutions for every roofing need, ensuring excellence and quality workmanship in all our endeavors.
Our Mission Statement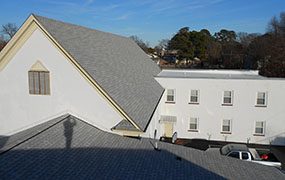 "We choose to be responsible stewards of our hometown and environment. In doing so, we seize each opportunity to reduce our carbon footprint, focusing on results that provide cost-effective roofing solutions through sustainability. Our commitment to quality can be seen through our technicians' dedication to their craft. Our customers can count on our dedication to excellence and quality workmanship."
If you are in need of commercial roof services in Virginia, turn to The Roof Coating Company. We service Hampton, VA, and the surrounding communities of Newport News, Williamsburg, Yorktown – York County, Williamsburg, James City, Gloucester County, Norfolk, Virginia Beach, Portsmouth, Chesapeake, Smithfield, and Suffolk. Call us today and experience the unparalleled roof service and customer care we offer.
The Industry's Best Warranty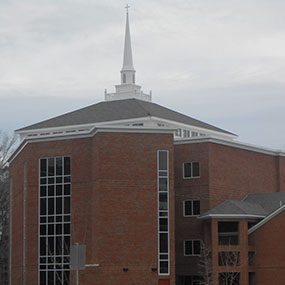 Rest assured that when you choose The Roof Coating Company, you benefit from the best warranties in the industry. Our manufacturer's processes and rigorous product testing have led to a 0% failure rate on all our applications. With our roof coating systems, you receive full coverage manufacturer's warranties, protecting 100% of labor and materials against failure. Additionally, our roofing system is ponding-water-resistant, ensuring long-lasting performance and reducing maintenance costs. Available Roofing Warranty options range from 10-, 15- and 20-years.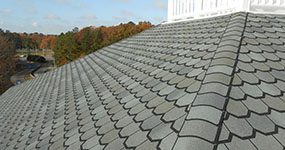 Because of the quality our manufacturer's processes and their rigorous 60-years of product testing, we have confidence in the quality of their products; you will too!
Even on emergency repairs with our silicone roof coating product when proper preparation of the roof prior to install wasn't an option due to impending weather. For example, when the Dead Rise Restaurant in Hampton, Va risked flooding on opening night! This particular repair still held strong and was water-tight 5 years later.
Join countless satisfied commercial building owners and property managers in Hampton Roads, Virginia, who have entrusted their roofs to The Roof Coating Company. Our licensed and certified associates are friendly, skilled, and ready to assist you. Call 757-515-7050 today for a FREE professional consultation and estimate to protect your roof sustainably and affordably.
Our Roofing Services Area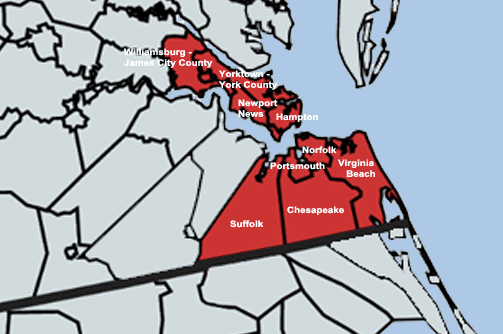 The Roof Coating Company provides a multitude of professional commercial and residential roofing services for the following Hampton Roads, Virginia cities and counties:
Virginia Peninsula
Poquoson
Yorktown - York County
Williamsburg
James City County