The Roof Coating Company is a Norfolk VA flat roof repair contractor. Roof restoration is usually more ideal than a total roof replacement. The problem is, unless you hire an expert company to repair your flat roof, you might continue to deal with problems. At The Roof Coating Company, we specialize in restoration so that your roof is as good as new without needing to pay for a costly roof replacement. We service the Norfolk, VA area, so if you're in need of a flat roof repair, give us a call at (757) 515-7050.
Flat roofs are commonly used on commercial buildings because of their durability and long lifespan. That being said, when there does happen to be a leak, a flat roof takes on a lot of water. It's essential that you call as soon as possible to limit the extent of the water damage. If you choose to wait, the repairs will be more costly and you may even need to pay for a full roof replacement.
Eco-Friendly Flat Roof Solutions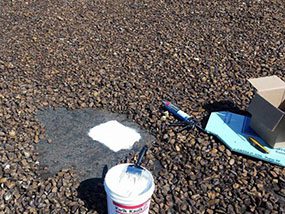 Our flat roof coating is a "green" roofing option that has several benefits. First of all, a roof coating is a seamless layer that adheres to the surface of the roof. This stops any current leaks, prevents any new leaks, and extends the lifespan of your roof. It's like getting a brand new flat roof without the cost or the hassle. Plus, the coating process is non-disruptive and can be done during business hours. This means you won't need to shut down your business like you would for a full roof replacement.
Our flat roof coatings have high reflectivity which prevents solar damage to your roof and building. On top of this, you'd be saving around 30% on your A/C bills. That adds up over the years, so coating your flat roof more than pays for itself. It's estimated that 70-80% of roofs are replaced too soon. If you call an honest company that knows what they're doing like The Roof Coating Company, we can fully restore your roof.
A Roof Coating Company You Can Trust
At The Roof Coating Company, we've made a name for ourselves as the top commercial roofing contractor for clients in Norfolk, VA. While our company was founded in 2010, we have over 60 years of combined experience in the roofing industry. Call us today at (757) 515-7050 if you're in need of a flat roof repair or any other type of commercial roofing service.