Before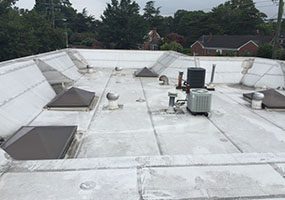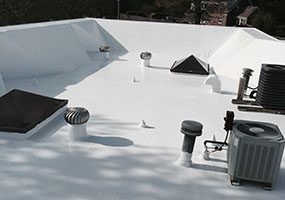 After
The benefits of roof coating for your commercial structure are numerous! If you're a commercial building owner or property manager, chances are you have heard of roof coatings. Within the roofing industry, the terms "seamless roof," "commercial roof coating," "flat roof coating," and "low-sloped roof coating" are one and the same; they all refer a type of liquid roof covering that is sprayed or rolled onto low-sloping roofs (low-sloping being equal or less than a 2/12 pitch).
As our name implies, the experts at The Roof Coating Company are the manufacturer's preferred contractor for Virginia when it comes to installing their roof coating system. As a full-service commercial roofing contractor, we provide a beautiful, proven solution to update your tired, old roof. Call us today at 757-515-7050 for a free estimate. Read on for more information about the process and its many benefits!
What Is a Roof Coating System?
Before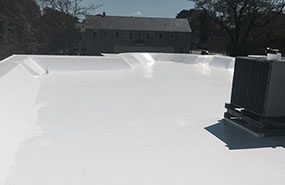 After
This liquid roofing material is sprayed or rolled right onto your existing roof—TPO, PVC, EPDM (rubber), built-up, bitumen, metal, concrete…—to create a truly seamless, or monolithic, roof covering. The process of installing our coating system is very detailed. Much like restoring an old car it takes time and skill. It starts with repairing the existing roof per industry standards to assure it is in a water-tight condition prior to a thorough high-pressure cleaning with our patented roof wash to remove all surface contaminant and removed. The entire surface is then primed to assure proper adhesion. All laps, seams, curbs, and penetration suspect to movement are sealed with SeamSeal; this will eliminate any movement in these areas. The final step is to apply the top coat of 100% siliconized coating. What goes on the roof stays on the roof, it will not wash away over time.
Benefits of Roof Coating
Before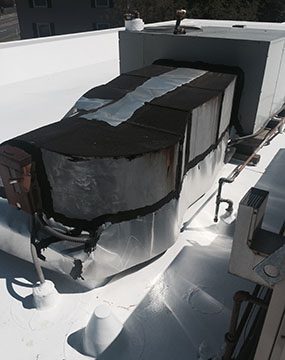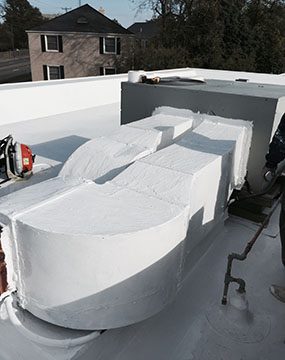 After
Tax Benefits-- The best part of our roof coating and restoration is that it falls under the guidelines of preventative maintenance with all the benefits of a new roof, which can be tax coded as a current expense.  This is great news for property owners and asset managers!  Why wait for a roof replacement to be amortized over the life of the property, recovering only though annual depreciation deductions, when you can deduct your roof restoration as a current operating expense this year?
Versatility – Our roof coating system can be allied over almost any roofing surface regardless of condition.
Impervious to ponding water – Ponding water does not affect our coating system and will not void the manufacturers warranty. All other roof systems on the market have disclaimers regarding ponding water that will void your warranty even on newly installed roofs.
Lower Cost – When compared to a roof replacement, our roof coating system is cost-effective. Eliminating the tear off and disposal along with reduced materials cost will save you on average 60% on your roofing project.
Building Exposure – During a complete tear off the interior of the building to include all it's contents are at risk. The roof is open and suspect to catastrophic damage if not properly dried in daily. Unexpected storms could potentially cost you more than just the price of the new roof. Your building will never be exposed to the elements during a roof coating installation.
Durability – Our roof coating system is comprised of 100% solids. It will never wash away or degrade over time.
Seamless – Because there are no seams in our roof coating system, you'll have a monolithic one-piece roofing system; it like having a pool liner covering the roof.
Reflectivity – Our roof coating systems are light colored, so they reflect UV rays, extending the life of your roof coating and leading to lower interior building temperatures. A secondary benefit is lower energy costs. Studies have shown cool roof coatings reduce energy expenditures by up to 30%.
Slippery – The smooth surface of our roof coating has 0% surface tension, it is highly resistant to the growth of mold, algae, and mildew, which are common causes of discoloration on other roof surfaces.
Eco-friendly – Because our roof coatings are sprayed directly over your existing roof, little to no waste is created during their installation.
Our Roof Coating Service Area
Now that you know more about The Roof Coating Company's seamless roofing options, call us today at 757-515-7050! We can answer all your questions and provide a professional, no-obligation estimate.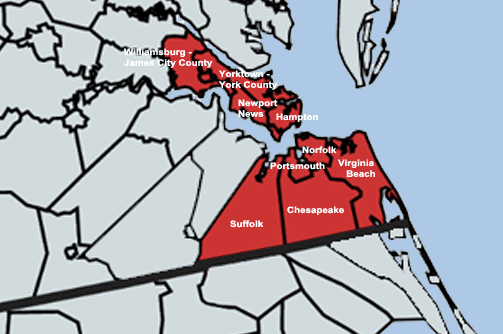 The Roof Coating Company provides a multitude of professional commercial and residential roofing services for the following Hampton Roads, Virginia cities and counties:
Virginia Peninsula
Poquoson
Yorktown - York County
Williamsburg
James City County