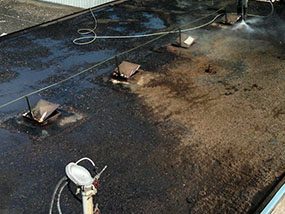 The Roof Coating Company is a professional Chesapeake VA flat roof repair contractor. If you have just noticed your commercial building's flat roof looks as if it may need of repairs, chances are good that it needs to be seen by a professional right away. Usually, by the time a layman notices an issue, the problem has existed for weeks or even months.
The Roof Coating Company is a full service commercial roofing contractor, serving the northwestern part of Virginia.  We specialize in all types of flat roof repair and also offer associated services such as roof inspections, maintenance, restoration, and replacement.  Call us today at (757) 515-7050 to learn more!
Professional Chesapeake VA Flat Roof Repair
Some of the most common repairs we perform on flat roofs include: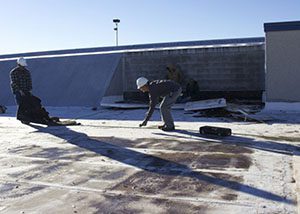 Roof Flashing Repairs: Over time, flashing can pull away and deteriorate, leading to leaks if not replaced.
Ice Damage: During the winter, ice can pile up at the edge of the roof, creating an ice dam, placing undue burden on the roof and cause water to pond.
Roof Leaks & Standing Water: Since flat roofs I Have an extremely small slope, they have a natural tendency to collect rainwater and runoff. Ponding water can accelerate the deterioration of your roofing membrane and allow water to slowly seep into your insulation.

If your commercials flat roof was properly installed, it will most likely last a few decades. However, no matter the state of your roof, regular maintenance by a professional is important. The Roof Coating Company can schedule an in depth inspection and work with you to custom tailor a maintenance plan and keep your healthy for the long run.
Chesapeake VA Flat Roof Restoration Specialists
One premium flat roof repair option we offer is restorative roof coatings. We Carry products from some of the largest and most reliable roofing and waterproofing businesses in the world, including GAF and Gaco.
Our roof coatings provide a proven, guaranteed solution to renew and waterproof your weathered, leaking roof. Here's a rundown of our roof coating options:
Can be applied to virtually any existing roof
Top coat creates a durable, glossy, reflective surface
Seamless and waterproof
Resistant to ponding water, wind, UV rays, and hail
Structurally reinforces your building
Avoids costly tear offs
Available in a variety of formulas: silicone, urethane, acrylic, and more

Call The Roof Coating Company Today For A Free Estimate!
Whether your commercial flat roof simply needs a small repair or whether it needs a full-scale restoration, or something in between, the experts at The Roof Coating Company are standing by to help! Call us today at (757) 515-7050 for your free estimate or to schedule an on-site visit.