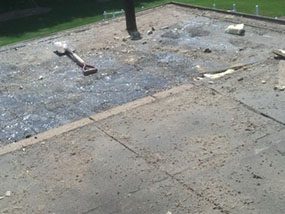 The Roof Coating Company is a Hampton VA flat roof repair specialist. Flat roofs are cost-effective and low maintenance which makes them a popular choice for commercial buildings. However, despite their durability, there are times when a flat roof repair is necessary. The Roof Coating Company specializes in commercial roofing services. Clients in Hampton, VA in need of a flat roof repair can reach us at (757) 515-7050.
The Signs of Needing Flat Roof Repair
When water is leaking into your building, it's obvious that your flat roof is in need of a repair. However, there are other less obvious signs that you should look out for. If you see any loose flashing, separation at the seams, or ponding water, it's time to let The Roof Coating Company have a look. We offer free roof inspections to local clients. Our roofing technicians will be able to diagnose your roof's issue(s) and provide the proper solutions to them.
Don't Wait To Get Your Flat Roof Repaired!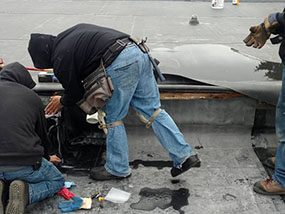 If you suspect that there is an issue with your flat roof, waiting can only mean trouble. The longer you wait, the more that water can damage your roof and building. This leads to more expensive and time-consuming repairs and can even cause the need for a full roof replacement.
Ponding water, loose flashing, and separation at the seams of your flat roof are all signs that spell trouble. When left unaddressed, each of these problems can cause damaging leaks. When it comes to a flat roof repair, time is of the essence.
Quality Commercial Roof Coatings
If your flat roof has continued to give you problems, you may be leaning towards getting a full roof replacement to do away with them. In reality though, a roof coating can make your old flat roof as good as new at a fraction of the cost. At The Roof Coating Company, we specialize in restoring roofs. Roof coatings are environmentally-friendly, affordable, and are very effective on flat roofs. The seamless membrane will protect your existing roof from the unpredictable Virginia weather.
Call The Roof Coating Company Today!
Your Hampton VA Flat Roof Repair Specialist
The Roof Coating Company is a full-service contractor with a team that has over half a century of combined experience. We offer flat roof repairs and other services to clients in Hampton, VA. For a free roof evaluation, call us today at (757) 515-7050.