The Roof Coating Company is a Chesapeake VA roof coating company. If you feel like you're sinking more and more money into roof repairs for your commercial or industrial building, stop! Don't keep throwing money away, repairing the same issues over and over, and definitely don't get sucked into the idea that you need to replace your roof – nearly 80% of all roofs are prematurely replaced.
Call the experts at The Roof Coating Company, and let us talk to you about our affordable, innovative roof coating products. They can renew your old roof, waterproofing and reinforcing it, at a fraction of the cost of re-roofing! (757) 515-7050
Benefits of Commercial Roof Coatings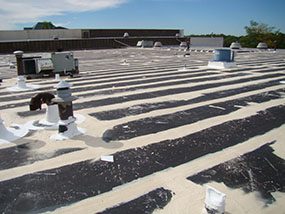 At The Roof Coating Company, we know that the end product is only as good as the materials involved.  We his premium quality products from nationally acclaimed manufacturers GAF and Gaco.
Our roof coatings can be applied to virtually any existing roofing substrate and come in a variety of formulas:
Acrylic
Silicone
Urethane
And more!
We also supply all the necessary accessories that are specifically formulated to work with these products: sealants, solvents, fabric, tapes, caulk, and more.
Some of the key advantages to using these time-tested roof coating systems include: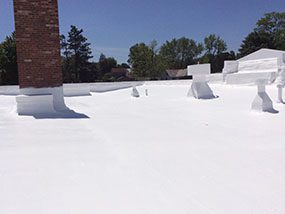 A proven, guaranteed solution for renewing your weathered roof
Protection against ponding water, the sun, and severe weather
Resistance to degrading, chalking, or cracking, even in harsh sun
Seamless and watertight
Excellent resistance to mold, mildew, dirt, stains
Avoid the mess and expense of a roof tear off and replacement
Extend the life of your roof, with options to recoat every 10 years for as long as possible
Reduce energy costs by 30%
Come with labor and material warranties
Master Certified Roof Coating Services
The Roof Coating Company is excited to be a GAF Certified Weather Stopper Roofing Contractor. What that means is our contractors attend ongoing training to ensure every roofing project be complete meets the highest and most professional standards. Only 3% of all roofing contractors qualify for this honor, and each year, many are turned away for failing to comply with the program's stringent requirements.
To become certified, The Roof Coating Company had to meet the following criteria:
Be Properly Licensed
Be Adequately Insured
Have a Proven Reputation
Demonstrate a Commitment to Ongoing Professional Training
This sought after certification provides the following benefits to you, the customer:
Professional Installation: The crew at The Roof Coating Company have access to extensive educational materials that keep them on the cutting edge of commercial roofing techniques.
Superior Protection – We work with only the best product manufacturers to bring you the best in roof coating protection.
Competitive Warranties – Our certified status allows us to offer specialized warranty options unavailable to the general public.
Call The Roof Coating Company Today!
To learn more about our roof coating options, and to experience for yourself the unmatched customer care and world-class workmanship only offered by The Roof Coating Company, call us today at (757) 515-7050!