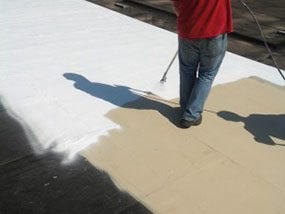 The Roof Coating Company is a Virginia Beach roof coating contractor. Roof coating is a revolutionary product that has changed the way we address commercial roofing issues. In times past, you could expect your commercial roof to last 10-15 years before the only option was replacement. Roof coating now allows us to extend the life of your roof by decades saving you time, money, and the waste of roof tear-off and replacement. At The Roof Coating Company, we are in the business of restoration and sustainability. Call us today to learn more and to schedule a roofing assessment at (757) 515-7050.
Roof coating is a liquid product that is sprayed or rolled onto your existing roof creating a seamless, waterproof barrier for your roof. This protective coating is applied to every square inch of your roof eliminating leaks and slowing the aging process of your roof. Roof coating benefits include:
Quick and affordable
Weather resistance
Increased energy-efficiency
Long-lasting durability
No need for tear off
Eco-friendly, green option
Impervious to ponding water
Highly reflective to the sun's rays
Extend the life of your roof
Warranty options available
Roof coating itself is an amazing product, but at The Roof Coating Company, we want to offer our customers green roofing options, as well. If possible, we recommend restoration rather than replacement which eliminates the expense of a tear off of the former roof that would end up in a landfill. Our roof coating systems extend the life of your current roof by decades by preserving your roof and slowing the aging process. Our roof coating is also manufactured out of 37% recycled content which is the highest in the industry. The surface of your roof will be whiter and more reflective than with any other roof coating system resulting in as much as 30% savings on your energy bills by reflecting up to 85% of the sun's harmful UV rays.
Best Warranty In The Roofing Industry
When you choose The Roof Coating Company, you will be covered by a full manufacturer's warranty which will guarantee 100% of the labor and materials against failure. We have a 0% failure rate on our roofing systems, so for a sustainable, affordable, leak-proof roofing solution, call us today at (757) 515-7050. We can't wait to hear from you.