The Roof Coating Company is a Hampton VA roof coating contractor. A lot of commercial building owners feel like they are stuck between two unfortunate choices: continue to pay for repairs for their old roof or pay for a full roof replacement. However, there are other options. If your existing roof keeps giving your problems, consider restoring your roof with a roof coating. The Roof Coating Company specializes in this service. We provide roof coatings and other services for clients in Hampton, VA. To find out more about our roof coatings, call us today at (757) 515-7050.
About Roof Coatings
Roof coatings are conveniently lightweight and easy-to-apply to all types of commercial roofs. A roof coating will protect your existing roof with a seamless and watertight membrane. Even if your roof has a world of issues, it's very possible that by simply hiring The Roof Coating Company to apply an affordable roof coating, your roof will perform like new for years to come.
There are a variety of roof coating formulas to choose from, including acrylic, silicone, and urethane. We can advise you on the best type of roof coating for your specific roof. Roof coatings will renew your weathered roof and protect it against damaging weather, ponding water, sun, and more.
A Sustainable Green Solution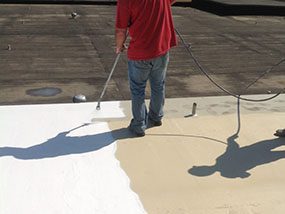 A roof coating is extremely effective at making a building more energy-efficient because it reflects the sun. Roof coatings are already affordable, especially when considering how much they can save you by being an effective alternative to a full roof replacement. Add in the fact that this service will also lower your energy bills and you can see how roof coatings have a great return on investment.
Our roofing technicians are experts at applying roof coatings. The Roof Coating Company has over six decades of combined experience. We're a local company that consistently provides high-quality services to the people of Hampton, Virginia.
Call The Roof Coating Company Today!
A roof coating offers a laundry-list of benefits. This service will protect your roof, make your building more energy-efficient, and save you both money and time. The Roof Coating Company is the most qualified contractor around. Clients in Hampton, VA can count on us to apply their roof coating the right way. For a free estimate, give us a call at (757) 515-7050.