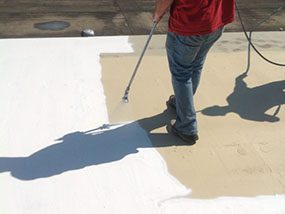 The Roof Coating Company is your Newport News roof coating specialist. When your commercial roof starts to age, it's only natural for leaks to become more and more regular. When this happens, a lot of building managers decide to get their roof replaced prematurely. However, a roof coating can get many more watertight years out of your existing roof. The Roof Coating Company is the most qualified company around for clients in Newport News, VA. To get a no-obligation estimate on a new roof coating, give us a call at 757-515-7050.
Why Restore My Commercial Roof?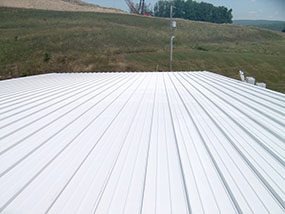 A significant amount of people replace their roof prematurely, up to 80% as a matter of fact. Just because your roof is leaking regularly doesn't mean a roof replacement is the only option. Roof restoration is a much more affordable alternative. A roof coating can have your aging roof perform as good as new. This is far less wasteful and less expensive than getting a roof replacement when problems begin to develop.
What Is A Roof Coating?
A roof coating is a thin, protective layer that is applied to the surface of your roof. It creates a seamless barrier that prevents water from getting in, even if your roof is no longer in great condition. Roof coatings can be applied to most types of commercial roofing systems. This service can easily extend the life of your roof for over a decade longer.
Roof coatings are extremely reflective and protect your roof and building from over 80% of the sun's rays. This makes for a more energy-efficient building. If you add up how much money you can save over the years on energy costs, a roof coating essentially pays for itself.
We're Newport News Roof Coating Specialist
It's no secret that we specialize in roof coatings. We often recommend this service to clients because it is a cost-effective solution that keeps your roof protected. Our roofing technicians are experts at roof coating application. The team members at The Roof Coating Company have decades of combined experience.
Call The Roof Coating Company Today!
When your roof is facing issues, it's best to have them dealt with as soon as possible. The Roof Coating Company helps clients in Newport News, VA with all sorts of comprehensive commercial roofing services. If you are interested in learning more about our roof coatings, give us a call today at 757-515-7050.