When it comes to roof coatings, all the options can quickly become overwhelming. At The Roof Coating Company, we make it easy. As our name implies, we're Virginia's experts when it comes to roof coatings.
You've got endless choices when it comes to roof coatings, so make sure you hire a contractor that knows their stuff. When you work with The Roof Coating Company, you can rest easy knowing that we do exceptional work that is on schedule and affordable. Call us today to learn more about our options: (757) 515-7050
We Are A Norfolk VA Roof Coating Company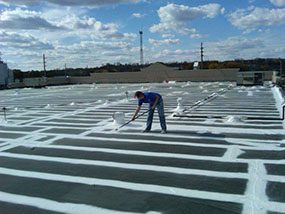 As a full-service commercial roofing contractor, The Roof Coating Company provides roof coatings as a restorative option and an alternative to roof tear-off and restoration. Some estimate that 8 out of 10 roofs are replaced prematurely. Roof coatings can save you time and money, and extend the life of your roof for a decade or more.
Here's a basic overview of our silicon roof coatings:
Can be sprayed or rolled onto almost any existing roof in good condition: TPO, PVC, rubber, built-up, metal, and more.
Silicone does not degrade, chalk, or crack.
Highly resistant to UV rays.
Seamless formula means less opportunity for water penetration.
Resistant to standing water.
Smooth surface resists algae, mold, mildew, and other vegetative growth.
Can be recoated after 10-15 years to indefinitely extend the life of your roof.
Reflective, dropping surface temperatures by 80 degrees and reducing heating/cooling costs by up to 50%.
Efficient, Effective Roof Rejuvenation With Commercial Roof Coatings
The experts at The Roof Coating Company have perfected the process of applying roof coatings to a variety of commercial roofing substrates:
We begin by repairing the existing roof and bringing the membrane or other material up to baseline standards.
All cracks, faulty seams, and leaks are repaired, and the roof is undergoes a high-pressure washing with roofing detergents to remove contaminants.
The surface of the old roof is primed, and seams and penetrations are sealed.
The roof is coated with 100% siliconized coating.
Exceptional Roof Coatings, Outstanding Customer Care
The elastomeric roof coatings we use at The Roof Coating Company are the highest quality products available on the market today. We believe that value refers to more than just the price of something – it refers to the worth of the product. We know our products are a great value because our customers get what they pay for – a high quality, top-performing roofing solution that will provide exceptional results year in and year out.
Call The Roof Coating Company today and let us walk you through all the ways we can bring your tired, old roof up to par - (757) 515-7050.