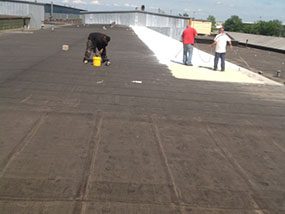 The Roof Coating Company is a Norfolk VA commercial roofing services contractor.  We are Norfolk, Virginia's premier contractor of choice when it comes to commercial roofing services in the Hampton Roads area. Why?
There are three main reasons:
1) The Roof Coating Company is committed to providing the most exemplary quality experience - from start to finish and from materials to workforce.
2) We understand that exceptional customer care goes hand-in-hand with world-class workmanship. Our dedication to excellence is apparent in all that we do.
3) As a full-service commercial roofing contractor, we don't pick and choose the services we offer.  No matter what you need, we have the skills and resources to take care of it quickly and effectively.
Call us today at (757) 515-7050 to learn more about how we can serve you!
A Commitment To Commercial Roofing Quality
At The Roof Coating Company, everything we do, every product we use, every material we apply, and every person on our team is held up to the most stringent of standards. That is part of The Roof Coating Company's commitment to quality. Here are just a few company practices that set us apart from the competition:
Premium Products: We partner with leading manufacturers such as GAF and GacoFlex to bring you only the best-in-class solutions, including commercial roofing membranes and specialty coatings.
Our Roofing Certifications: We hold certifications from the Cool Roof Rating Council, Leadership in Energy and Environmental Design, ENERGY STAR, and NSF.
Safety Training:  The experts at The Roof Coating Company receive factory training to stay up-to-date on all the latest techniques for roofing applications. They must also meet federal safety training requirements.

Dedication To Commercial Roofing Excellence
There are two main elements that speak to a company's excellence: Quality services or products and quality customer care. At The Roof Coating Company, we believe both are equally important.
When you hire The Roof Coating Company, you can be sure you are working with the company who has taken the time to research the products and discover the best solutions for your unique circumstances. And we do it all at a competitive price!
When you work with us, you aren't just another number – you become part of The Roof Coating Company family. We strive to provide the best customer service in the industry, with customer interactions that are:
Frequent
Transparent
Easy to understand

Full-Service Commercial Roofing Solutions
Nothing is more frustrating than needing your roof repaired, and calling around to find out that your contractor of choice doesn't provide that service. The Roof Coating Company is a full service commercial roofing contractor.  That means we do it all:
Cool Roof Options
Insurance Guidance
And more!
Call The Roof Coating Company Today!
To speak to one of our friendly, knowledgeable team members, call The Roof Coating Company today at (757) 515-7050! We will be happy to help you find a solution to any roofing problem you may have!