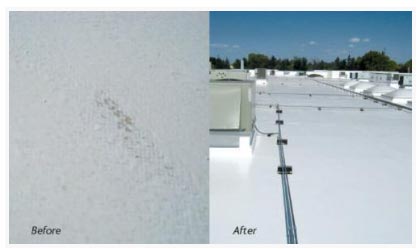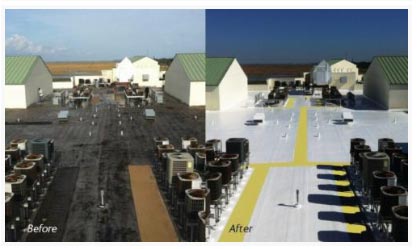 The Roof Coating Company -  your premier Yorktown commercial roofing partner for professional commercial roofing services in  York County, Virginia and beyond. With years of experience, a dedicated team, and a commitment to excellence, we are the go-to choice for businesses seeking top-quality roofing solutions. From consultations and installations to repairs and replacements, we offer comprehensive services that cater to your commercial roofing needs. Read on to learn more about our specialized offerings, the causes for commercial roof repairs, the diverse types of commercial roofing we service, our detailed roofing process, and the added assurance of our roofing warranty.
Professional Commercial Roofing Services
At The Roof Coating Company, we offer a comprehensive range of professional commercial roofing services designed to meet the unique requirements of businesses. Our services include:
Consultation: We begin with a thorough consultation to understand your specific needs and challenges. Our experienced team provides expert advice and recommendations tailored to your business and budget.
Commercial Roofing Materials: We source high-quality roofing materials from trusted manufacturers to ensure durability, energy efficiency, and long-lasting performance.
Installation: Our skilled technicians execute flawless installations, adhering to industry standards and best practices to ensure your roof is built to withstand the elements.
Replacement: When the time comes for a roof replacement, we guide you through the process and provide efficient and reliable replacement services to ensure minimal disruption to your operations.
Repair: From minor leaks to more complex issues, our experienced team conducts efficient and effective repairs that restore the integrity of your commercial roof.
Coatings: We specialize in roof coatings that provide added protection, energy efficiency, and extended roof life. Our coatings offer seamless coverage that enhances your roof's performance.
 Causes For A Commercial Roof Repair
Understanding the common causes of commercial roof repairs is crucial for proactive maintenance and timely intervention. Some common causes include:
Weather Extremes: Severe weather events, including heavy rain, wind, hail, and snow, can cause damage to roofing materials, leading to leaks and compromised structural integrity.
Aging: Over time, roofs naturally age and may develop cracks, deterioration, and other issues that require prompt repair.
Ponding Water: Flat or low-slope roofs may experience ponding water, which can lead to leaks and further deterioration.
Poor Installation: Improper installation practices can result in premature roof failures and the need for repairs.
Lack of Maintenance: Neglecting routine maintenance allows minor issues to escalate into more significant problems.
Types of Commercial Roofing We Service
At The Roof Coating Company, we specialize in servicing a variety of commercial roofing types, ensuring your business receives the right solutions. Our expertise includes:
Flat Roofing: We offer repairs, installations, and coatings for flat roofs, addressing issues specific to this style.
Roof Coatings: Our seamless roof coatings enhance protection, reflectivity, and energy efficiency.
PVC Roofing: We provide expert repairs and maintenance for PVC roofing, a durable and versatile option.
Bitumen Roofing: Our services include addressing issues with bitumen roofing, such as leaks and membrane damage.
TPO Roofing: Our experienced team handles TPO roofing repairs, ensuring your roof remains effective.
Our Commercial Roofing Process
At The Roof Coating Company, we follow a meticulous and detailed commercial roofing process to ensure quality and customer satisfaction. Our process includes:
Initial Consultation: We meet with you to assess your roofing needs, discuss options, and provide expert advice.
Roof Inspection: Our team conducts a thorough inspection to identify issues and determine the best solutions.
Customized Plan: Based on the inspection, we create a tailored plan that addresses your specific needs and budget.
Quality Installation/Repair: Our skilled technicians execute installations and repairs with precision and care, using quality materials.
Regular Updates: We provide transparent communication throughout the project, keeping you informed of progress.
Final Inspection: Before completion, we conduct a final inspection to ensure everything meets our high standards.
Our Commercial Roofing Warranty
We stand behind our work with a roofing warranty that offers you added peace of mind. Our roofing warranty covers both materials and workmanship, ensuring your investment is protected against defects and issues. We are committed to your satisfaction and the long-term success of your commercial roofing project.
Call The Roof Coating Company Today!
The Roof Coating Company is your trusted partner for professional and reliable commercial roofing services in Yorktown and York County, Virginia. With a wide range of specialized offerings, a dedicated team, and a commitment to excellence, we ensure your business receives top-quality roofing solutions that enhance protection, energy efficiency, and longevity. Contact us today at 757-515-7050 to schedule a consultation and experience the difference of working with a team that prioritizes your commercial roofing needs. We look forward to serving you and contributing to the success and durability of your business.