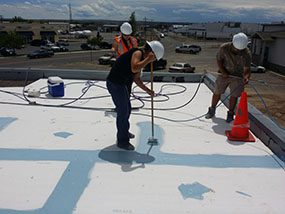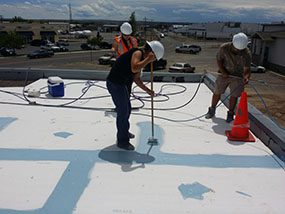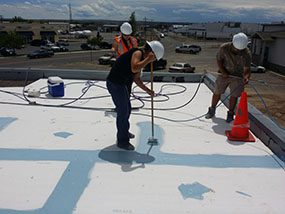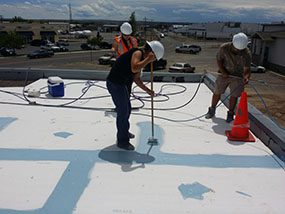 Yorktown commercial roof repair contractor -  The Roof Coating Company - is your trusted partner for professional and comprehensive commercial roof repair services in the Yorktown - York County, Virginia area. A well-maintained commercial roof is essential for the success and longevity of your business. With years of experience, a skilled team, and a commitment to excellence, we are dedicated to providing top-notch roof repair solutions that safeguard your investment. Read on to learn more about our specialized services, common causes for commercial roof repairs, the diverse types of commercial roofing we service, our meticulous roofing process, and the added assurance of our roofing warranty.
Professional Commercial Roof Repair Services
At The Roof Coating Company, we specialize in delivering professional and reliable commercial roof repair services. We understand the unique challenges that businesses face when it comes to maintaining their roofing systems. Our experienced team is equipped to handle a wide range of issues, from leaks and damage to repairs that ensure the safety, functionality, and efficiency of your commercial space.
Our commitment to professionalism, promptness, and quality workmanship sets us apart as a leading choice for businesses seeking expert commercial roof repair solutions.
Causes For A Commercial Roof Repair
Commercial roofs can be subjected to various stressors that lead to the need for repairs. Understanding these common causes can help you address issues promptly and minimize potential disruptions to your business. Some of the most frequent causes for commercial roof repairs include:
Weather Extremes: Severe weather conditions, including heavy rain, high winds, hail, and snow, can weaken roofing materials over time, leading to leaks, punctures, and other forms of damage.
Aging and Wear: As commercial roofs age, they become susceptible to deterioration and wear. This can result in cracked seams, weakened membranes, and compromised flashing, requiring repairs to maintain the roof's integrity.
Improper Installation: Poor installation practices or the use of subpar materials during the initial roof installation can lead to premature issues. Repairs are often necessary to correct these installation-related problems.
Neglected Maintenance: Lack of regular maintenance can exacerbate minor issues, causing them to escalate into more extensive damage. Routine inspections and maintenance can help identify and address problems before they become more severe.
Ponding Water: Flat or low-slope roofs are prone to water ponding, which can lead to deterioration and leaks. Repairs are crucial to prevent water accumulation and potential structural damage.
By addressing these causes promptly and seeking professional commercial roof repair, you can prolong the lifespan of your roof and maintain a safe and productive work environment.
Types of Commercial Roofing We Service
At The Roof Coating Company, we have the expertise to service a wide range of commercial roofing types, ensuring that your unique business needs are met. Our specialized services include:
Flat Roofing: Flat roofs are common in commercial buildings. We offer repairs for various flat roofing materials, such as built-up roofing (bitumen), single-ply membranes (PVC, TPO), and liquid-applied coatings.
Coating Systems: Roof coatings provide an additional layer of protection and can extend the lifespan of your roof. We offer repair and maintenance for various roof coating systems, including reflective coatings that enhance energy efficiency.
PVC Roofing: PVC roofing offers excellent durability, resistance to chemicals, and low maintenance requirements. We provide repairs that ensure your PVC roof remains watertight and reliable.
Bitumen Roofing: Also known as built-up roofing, bitumen roofs are durable and can withstand heavy foot traffic. Our repair services address issues such as cracks, blisters, and membrane damage.
TPO Roofing: TPO roofing offers energy efficiency and UV resistance. Our repairs focus on maintaining the integrity of TPO membranes and ensuring proper sealing.
Our commitment to staying updated on the latest roofing technologies and techniques allows us to effectively repair and maintain a wide range of commercial roofing systems.
Our Commercial Roofing Process
At The Roof Coating Company, we follow a detailed and thorough commercial roofing process to ensure that every repair project is executed with precision and care. Our process includes:
Initial Assessment: Our experts conduct a comprehensive assessment of your commercial roof, identifying the specific areas that require repair and evaluating the overall condition of the roofing system.
Repair Plan: Based on the assessment, we develop a tailored repair plan that outlines the necessary steps to restore your commercial roof's functionality and integrity.
Repair Execution: Our skilled technicians carry out the repairs using high-quality materials and industry-leading techniques. Whether it's fixing leaks, addressing damaged membranes, or sealing seams, we ensure that the repairs are completed effectively.
Quality Control: After the repairs are completed, we perform a thorough quality control check to verify that the repaired areas meet our strict standards and that your roof is in optimal condition.
Maintenance Recommendations: We provide recommendations for ongoing roof maintenance to help extend the life of your commercial roofing system and prevent future issues.
Our Commercial Roofing Warranty
At The Roof Coating Company, we stand by the quality of our work and the materials we use. We are proud to offer a roofing warranty that provides you with added assurance and peace of mind.
Our roofing warranty covers both materials and workmanship, ensuring that any defects or issues that may arise as a result of our repairs are promptly addressed. We prioritize your satisfaction and the long-term performance of your commercial roof.
Call The Roof Coating Company Today!
The Roof Coating Company is your premier partner for professional and reliable commercial roof repair services in Yorktown - York County, Virginia. With our expertise, dedication to quality, and commitment to excellence, we are here to ensure that your business's roofing system remains in optimal condition, safeguarding your assets and operations. Contact us today at 757-515-7050 to schedule a consultation and experience the difference of working with a team that prioritizes your commercial roofing needs. We look forward to serving you and contributing to the success and durability of your business.