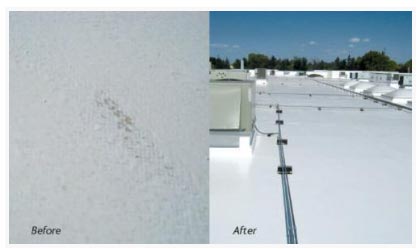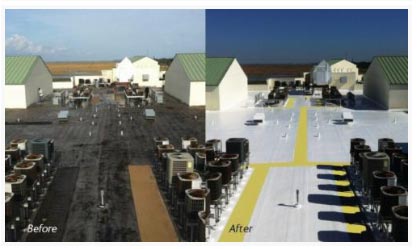 Welcome to The Roof Coating Company, your trusted Yorktown Commercial Roof Coating partner in delivering professional commercial roof coating services to businesses within Yorktown and York County, Virginia. With our years of expertise and commitment to excellence, we offer a comprehensive range of solutions designed to enhance the longevity, durability, and overall performance of your commercial roofing systems. As a leading player in the industry, we understand the unique challenges that commercial properties face, and we are dedicated to providing tailored solutions that meet your specific needs.
Professional Yorktown Commercial Roof Coating Services
At The Roof Coating Company, we specialize in offering top-notch commercial roof coating services that are second to none. Our team of skilled professionals is equipped with the knowledge and experience needed to handle a wide variety of commercial roofing projects. Whether your property has a flat roof, PVC, bitumen, TPO, or any other roofing system, we have the expertise to deliver exceptional results.
Our comprehensive services encompass everything from initial roof assessment to coating application and post-coating inspections. We employ cutting-edge techniques and high-quality materials to ensure that your commercial roof not only looks pristine but also stands the test of time. Our commitment to excellence and attention to detail set us apart as the preferred choice for all your commercial roofing needs.
Benefits of Commercial Roof Coating
Investing in commercial roof coating offers a multitude of benefits that go beyond just aesthetic improvements. Our advanced coating solutions provide an additional layer of protection that guards against leaks, UV radiation, extreme weather conditions, and the wear and tear that commercial roofs often endure. By preventing moisture infiltration and reducing temperature fluctuations, our coatings contribute to improved energy efficiency, ultimately reducing utility costs.
Additionally, opting for a roof coating solution can extend the lifespan of your existing roof, saving you the substantial expense of a complete roof replacement. With our specialized coatings, you can enhance the performance of your roof while maintaining a professional appearance that reflects positively on your business.
Types of Commercial Roofing We Service
At The Roof Coating Company, we have extensive experience working with various types of commercial roofing systems. Whether you have a flat roof that requires specialized attention or a PVC, bitumen, or TPO roofing system, our experts have the knowledge and skills to provide tailored solutions for each type.
Flat roofs, known for their unique challenges, benefit greatly from our specialized coatings that provide superior protection against ponding water and structural stresses. PVC, bitumen, and TPO roofing systems are all within our expertise, and our comprehensive approach ensures that the specific needs of each system are addressed effectively.
Our Commercial Roof Coating Process
Our meticulous commercial roof coating process is designed to deliver outstanding results that stand the test of time. We start with a thorough inspection of your existing roof to identify any underlying issues that need attention. Our experienced team then develops a customized coating plan tailored to your roof's unique requirements.
The coating application process involves preparing the roof surface, applying the chosen coating solution evenly, and ensuring a seamless finish. Our commitment to precision and quality means that every step of the process is executed with attention to detail, ensuring a smooth, durable, and aesthetically pleasing result.
Our Roof Coating Warranty
At The Roof Coating Company, we stand behind the quality of our work with a comprehensive roof coating warranty. We take pride in the durability and longevity of our coatings, and our warranty is a testament to our confidence in their performance. This warranty provides you with peace of mind, knowing that your investment is protected, and you can count on us for any necessary support after the coating application.
Call The Roof Coating Company for Exceptional
Commercial Roof Coating Solutions
When it comes to reliable and effective commercial roof coating services, Yorktown Commercial Roof Coating Company is the name you can trust. Our dedication to excellence, expertise in various roofing systems, and commitment to customer satisfaction set us apart in the industry. Experience the benefits of our professional coatings that enhance your commercial property's performance and appearance. Contact us today to learn more and schedule a consultation.