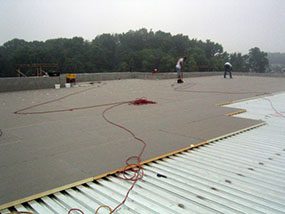 The Roof Coating Company is a Virginia Beach single-ply roofing contractor. Single-ply roofing is one of the top choices for commercial flat roofs. First and foremost, single-ply roofing is very cost-effective. The material is flexible, long-lasting, and the installation process is generally quick and easy. At The Roof Coating Company, we can install a single-ply roof on your flat roof without disrupting your business so you can keep your foot on the gas. We provide commercial roofing services in the Virginia Beach, VA area. Give us a call today at (757) 515-7050 for a complimentary on-site roof inspection and estimate.
Single-Ply Commercial Roofing Options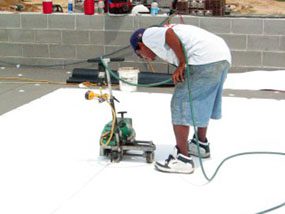 At The Roof Coating Company, we believe it's important to provide several options for our clients. This way, we can customize our roofing plans to suit each individual client's needs and desires. That's why we specialize in installing several different types of single-ply roofs such as EPDM, PVC, and TPO. They each have their own unique advantages; which one you choose depends on your roof and personal preference. Single-ply roofing is widely used on commercial buildings because it's waterproof, fire-resistant, durable, and can make your commercial building far more energy-efficient.
EPDM Roofing
Also referred to as rubber roofing, EPDM single-ply roofing is an environmentally-friendly choice that handles heat and fluctuating temperatures quite well. You can expect one of these roofs to last you over 30 years.
PVC Roofing
If your flat roof is curved or on a low slope, a PVC roof might be your best option. The flexible material is applied with heat. PVC single-ply roofing handles acid rain, chemical damage, and extreme temperatures remarkably well.
TPO Roofing
If you're looking to cut down on energy bills, TPO might be the roof for you. With the highest level of reflectivity, TPO single-ply roofing will protect your building from the sun and cut down on the cost of your A/C.
Call The Roof Coating Company Today!
Of course, our team of professionals will talk you through each option and answer any of your questions. We like to work together with our clients until we agree upon the best plan of attack. The Roof Coating Company continues to build a strong reputation among clients in the Virginia Beach, VA area. Give us a call today at (757) 515-7050 for single-ply roofing and other types of commercial roofing services.