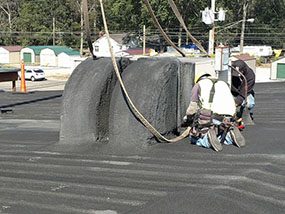 The Roof Coating Company is a Virginia Beach commercial roofing services contractor. If you're in need of some kind of commercial roofing service, The Roof Coating Company is the top commercial roofing contractor for clients in Virginia Beach, VA. As a full-service commercial roofing company, we do it all. Whether it's restoration, coatings, repairs, maintenance, installation, or full roof replacement, our team of roofing experts are here to help. Give us a call today at (757) 515-7050 and we'll come on-site to give you a free estimate.
Our Virginia Beach Commercial Roofing Services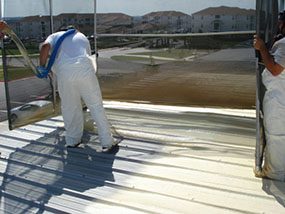 At The Roof Coating Company, we are capable of restoring your roof so you don't need to get a costly and disruptive full roof replacement. The truth is, full roof replacements are often unnecessary. We specialize in roof coating restorations. When we coat your roof, a seamless, watertight layer adheres to the surface of your roof to protect it from sun, water, mold, and more.
This coat stops any leaks and extends the life of your roof so you won't need to worry about it for years. Furthermore, the coat's reflectivity will save you a significant amount of money on A/C bills. Eventually, the roof pays for itself from what your business will save in energy. Plus, The Roof Coating Company can coat your roof during your working hours without disrupting your business. This way, you can keep your business running while we work.
Of course, there are time where a full roof replacement is appropriate, and we can do that for you as well. We also handle repairs, single-ply roofing, maintenance, installation, inspections, and hail damage. With over 60 years of combined roofing experience, there's nothing our team hasn't seen. The Roof Coating Company relies on creating strong business relationships so we treat each client's roof as we would our own.
Call The Roof Coating Company Today!
Since 2010, The Roof Coating Company has been providing clients in Virginia Beach, VA with high-quality and professional commercial roofing services. Our team will make a tailor-made roofing plan that best suits your commercial building. If you have an issue with your roof, don't wait. The longer it takes you to call us, the more the damage can spread. Give us a ring at (757) 515-7050 for a free on-site roof inspection.