The Roof Coating Company is a Virginia Beach rubber roof repair contractor. As a business owner, having a rubber roof has its advantages. Rubber roofs seldom need repairs, and the repair process is relatively straightforward. When you do need rubber roof repair in Virginia Beach, VA, The Roof Coating Company has lasting, sustainable, roofing solutions for your rubber roof. Call us today at (757) 515-7050 to schedule an appointment.
Does My Rubber Roof Need Repairs?
Although rubber roofs are durable and long-lasting, they do need occasional repairs to remain watertight and leak resistant. If your rubber roof is already in pretty good condition, it is probably a great candidate for a few minor repairs. Your roof may need repairs if you see cracks, tears, punctures, separation of the seams, loose flashing, leaks, shrinking of the membrane, or pooling water. In many cases, rubber roofs can be patched.
Rubber Roof Repair Process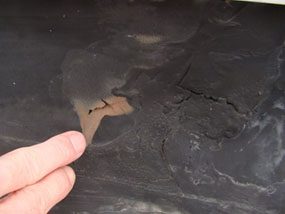 The process for your rubber roof repair in Virginia Beach, VA will vary depending on the severity of your roof damage. If minor repairs are needed, and a roof patch job will work, then after we locate the damaged area, it will be patched. The affected area will be cut away and removed, and a rubber patch will be sized to fit the space. We will clean the area, apply primer, and the patch will be sealed into place with careful precision to avoid wrinkles or bubbles that can result in leaks.
Permanent Rubber Roof Repair Solutions
Patching your rubber roof is not always to the best rubber roof repair solution, however. Often, a more permanent solution is needed. If your roof has been repaired before or is repeatedly having issues, a roof coating system can eliminate future problems. Roof coatings can make your roof waterproof by creating a seamless barrier over the entire surface of your roof. Once we fix all of the cracks, punctures, separations, UV damage, and leaks, your roof will also become very energy-efficient. Aging and future damage will be prevented, and you will save money on your monthly energy bills.
At The Roof Coating Company, we focus on affordable, sustainable, roofing options to reduce our carbon footprint. We could extend the life of your current roof by years while saving you money. Call us today for an assessment of your rubber roof and to learn more about our roof restoration systems at (757) 515-7050.