The Roof Coating Company is a Norfolk VA rubber roof repair contractor. All roofs have an expected service life. The life expectancy of an EPDM or rubber roof system is about 22-35 years. However, experience has shown us that those years can be extended with regular, proper care and maintenance by a professional.
If you own or manage a commercial or industrial facility in or near Norfolk, Virginia, call the roofing experts at The Roof Coating Company – (757) 515-7050. We have more than 60 years of combined experience in the roofing industry and can take care of all your rubber roof repair needs, large or small.
Norfolk VA Rubber Roof Repair Specialist
If your commercial rubber roof is in need of repairs, The Roof Coating Company has the knowledge, experience resources, and skills to efficiently and effectively fix it.
In nearly a decade of service, we have seen it all when it comes to rubber roof damages: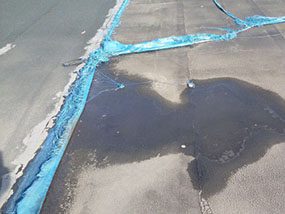 Tears/Rips – Occur with projectiles such as hail, or falling objects like branches or tools. Can also be a result of heavy foot traffic.
Leaks – Often found along seams or in areas where sealant/flashing has begun to fail.
Shrinkage – Rubber membranes are prone to pull away from edges with large fluctuations in temperature. This issue can be addressed with proper maintenance and regular repairs.
Loose Membrane – Due to poor bonding, adhesion, or ballasting.
Standing Water – Often a result of low spots in the membrane or poor drainage on flat and low-sloped roofs.
If neglected, these and other small issues can compound and require a roof replacement sooner rather than later. However, The Roof Coating Company can help stay on top of repairs and keep your rubber roof in good health for many decades with proper care and maintenance.
Complete Roof Restoration By The Roof Coating Specialists
As our name implies, The Roof Coating Company specializes in the application of liquid-applied roofing, or roof coatings. When damages are widespread, but replacement is too much, a roof coating is a great way to rejuvenate your old rubber roof and repair and seal off damaged portions.
Our fluid roof coatings are formulated by leading manufacturer -  Conklin - and once applied, they form a seamless, watertight barrier against the elements. The Roof Coating Company uses premium products to make sure your rubber roof lasts as long as possible – we will never recommend a roof replacement when repairs or restoration will do.
Other benefits of our roof coatings include:
Durability: Our roof coatings don't wash off or wear away, and they need minimal maintenance.
Reflectiveness: Roof coatings bounce back up to 85% of the sun's rays, lowering utility bills by as much as 30-50%.
Smoothness: Coatings are seamless and smooth, making it difficult for mold, algae, mildew, and other vegetation to grasp the surface.
Water Resistance: On flat roofs, where standing water is a common problem, roof coatings hold up well to ponding water and frequent moisture.
Call The Roof Coating Company Today!
When you hire The Roof Coating Company to take care of your commercial rubber roof, you are working with a company who knows the ins and outs of rubber roofs. We specialize in services designed to extend the life of your roof, improve energy efficiency, and save you money!
Call us today at (757) 515-7050.