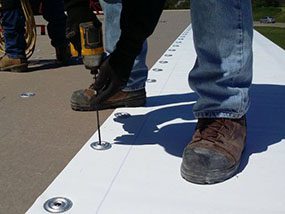 The Roof Coating Company is a Norfolk VA single-ply roofing contractor. Single-ply roofing is a popular choice among property managers and business owners for one common identifying feature – they are made of just one layer of waterproofing membrane. When you consider all the other roofing systems out there, the ability to apply just one layer of membrane to your building's roof and call it good is tempting, but the different single-ply options vary greatly in their uses, benefits, and installation.
If you are in need of a commercial roofing contractor who is familiar with single-ply roofing – installation, repair, restoration, and more – look no further. Call The Roof Coating Company at (757) 515-7050 to learn more and speak with Norfolk, Virginia's premier roofing contractor.
Single Ply Option #1: EPDM
Ethylene propylene diene monomer, or rubber, is a synthetic single-ply membrane commonly seen in commercial roofing applications.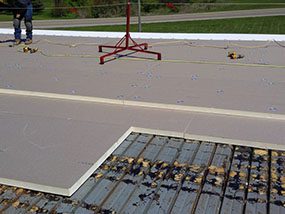 Pros
Typically less expensive than traditional roofing materials.
Easy to install. Needs no special equipment, resulting in lower labor costs.
Extremely resistant to high winds, hail, and hot and cold temperatures.
Energy efficient.
Fire resistant.
Can last up to 50 years with proper maintenance.
Low maintenance
Easy to repair
Cons
Often fail along the seams, leading to leaks.
Prone to ponding water.
Usually comes in just white or black.
Single Ply Option #2: TPO
Thermoplastic Olefin is a single-ply membrane make up of two plies of TPO, sandwiching a reinforcing layer of polyester in the middle.
Pros
Top layer is white, reflecting the sun and reducing utility costs.
Resistant to chemicals, grease, and punctures.
Life expectancy of up to 20 years.
Membranes are sealed with hot air welding.
Durable.
Leak resistant.
Cons
TPO is a relatively new single-ply, so not much data exists on it that is older than 15 years.
Membrane formulation continues to change, so quality may vary from manufacturer to manufacturer.
Available in white, grey, or black.
Single Ply Option #3: PVC
Like TPO, Polyvinyl chloride is also a thermoplastic membrane, meaning it can be repeatedly softened by heating or hardened by cooling. It is composed of sheets of PVC reinforced with polyester or glass-fiber mats or scrim.
Pros
Flexible.
Come in a range of widths and thicknesses.
Superior durability comes from heat or chemical welding along the seams
Come in a variety of colors.
Life expectancy of 30+ years.
Resistant to chemicals, fire, wind, water.
Cons
Susceptible to low temperatures. Not recommended for foot traffic below 50 degrees F.
Norfolk VA Single-Ply Roofing Experts
The professionals at The Roof Coating Company are experts when it comes to single-ply roofing and the best solutions for your commercial or industrial roof. Call us today at (757) 515-7050 to see what we can do for you!