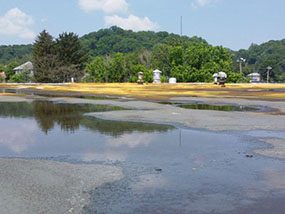 The Roof Coating Company is a Norfolk VA flat roof replacement contractor. If the time to replace your commercial flat roof has finally come, turn to Norfolk's local roofing professionals at The Roof Coating Company. With more than 60 years of combined experience in the roofing industry, our experts can help you through the roof replacement process, including tearing off your old roof, disposing of it, deciding what new roofing system is right for you, and installing your new roof.
Call us today at (757) 515-7050 and let the friendly, honest technicians at The Roof Coating Company guide you through the replacement of your commercial building's flat roof.
Commercial Flat Roof Replacement Options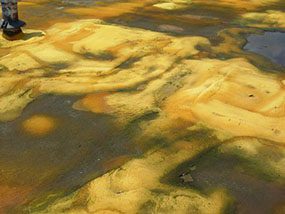 With the tear off of your old flat roof, a whole new world of options for your flat roof opens up before you. But while some flat roof systems are a great choice for your industrial-sized building, others are best used for residential applications. Some flat roofing materials boast advantages in energy savings or color options, while others offer superior maintenance requirements or lower installation costs. Let us guide you through the pros and cons of each:
1) Built-up Roofing (BUR)
Built-up roofing, commonly referred to as tar and gravel roofing, is an attractive option for flat roofs because it is relatively inexpensive. They are so named because they are typically made up of alternating layers of bitumen and reinforcing fabrics, topped with gravel for aesthetic appeal.
Unfortunately, this type of roof is extremely heavy. If your roof wasn't BUR before, chances are good your existing roof will need to be reinforced prior to applying BUR. It is also hot and messy (and smelly) to install.
2) Modified Bitumen Roofing
Modified bitumen is a type of single-ply that can be blowtorched down or comes in a peel-and-stick method. Modified bitumen is reflective, reducing heat stress to the building and HVAC system and dropping utility costs.
One drawback to this system is that it is susceptible to scuffing and tearing, even with minor foot traffic.
3) PVC Roofing
Polyvinyl Chloride is a reflective and durable single-ply system. It is easy to install and water-tight, as well as highly resistant to water ponding.
The main problem that afflicts PVC roofs is faulty seams. Seams on PVC roofs are heat welded or glued, and improper installation can lead to premature failure.
4) TPO Roofing
TPO is a newer single-ply membrane used on flat roofs. It is environmentally friendly and reflective. It also resists fire and has been shown to stand up well to penetration and projectiles such as hail.
Because it is a newer product, it hasn't been time-tested like some other flat roofing options, and formulas may vary from manufacturer to manufacturer.
5) EPDM Roofing
EPDM, or rubber, roofing is also a single-ply roofing systems. The main attraction of rubber roofing is its durability – many flat rubber roofs last for 35+ years.
Once again, seams create a weak point in this roofing system.
6) Spray Applied Roof Coatings
Spray applied roof coating systems are newer to the industry, and another excellent option for your flat roof replacement. Also called "seamless roofing" or "monolithic membranes," roof coatings are sprayed or rolled onto your existing low-sloping roof.
The main draw of fluid-applied roof coatings is their lack of seams, meaning less opportunity for leaks. Roof coatings are also highly reflective and resistant to standing water. Another benefit is that roof coatings can be re-applied on top of one another after several years, indefinitely extending the life of your roof.
Spray applied coatings are, however, more expensive than many other options.
7) Metal Roofs
Metal is a durable option for your commercial flat roof replacement. Metal roofs can last nearly 4 decades when properly maintained. It is naturally reflective and attractive.
Unfortunately, metal is prone to rust and corrosion, if not properly sealed and maintained.
Call The Roof Coating Company Today!
At The Roof Coating Company, we pride ourselves on our quality work and our exceptional service to our commercial customers. Call us today at (757) 515-7050 to speak to one of our knowledgeable technicians and find out what flat roofing system is right for you!