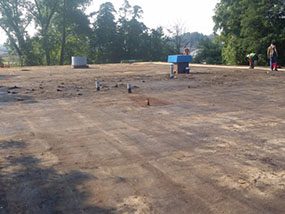 The Roof Coating Company is a Virginia Beach flat roof replacement contractor. Although flat roofs can last for decades before they need to be replaced, at some point, your flat roof may need significant repairs or restoration. If your flat roof is having some issues, flat roof replacement in Virginia Beach, VA, may not be your only option. The Roof Coating Company may be able to save your flat roof and even extend the life of it by years. Call us at (757) 515-7050 to find out more about our revolutionary, one-of-a-kind roofing solution.
Flat Roof Repair Signs To Watch For
Flat roofs are often strong and resilient for decades before the business owner realizes that their flat roof may need attention. Anytime water stands on a flat roof; it can become prone to leaks. Ponding water, loose flashing, separation of seams, and punctures or tears can all be signs that your roof is in serious distress.
An Alternative To Flat Roof Replacement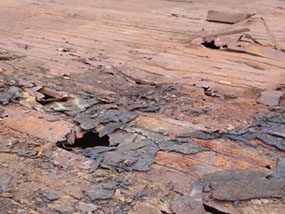 Many times roofs are torn off and discarded when they can, in fact, be restored. This is unfortunate and flat roof replacement in Virginia Beach, VA often means a lengthy process including tear-off and disposal of the previous roof. Our goal is to keep your roof out of the landfill and save you money by restoring instead of replacing.
While not every roof can be saved, at The Roof Coating Company, we offer an alternative to replacement if at all possible. Our roof coating systems can be applied to almost any existing roof including:
EPDM Roofing
TPO Roofing
Metal Roofing
Built-up Roofing
Single-ply Roofing
Pre-existing Roof Coatings
Commercial Roof Coating Benefits
Our roof coating is impervious to ponding water, highly reflective, and highly resistant to mold and dirt. There is little to no waste created during our installation process making our roof systems very eco-friendly. They are sprayed directly over your existing roof for a smooth, durable finish.
If your roof is simply too old, too damaged, or is not a good candidate for a roof coating, The Roof Coating Company can replace your roof and offer you an outstanding warranty. Chances are, though, we can restore your roof with an affordable, sustainable, eco-friendly roof coating. Call us at (757) 515-7050 to schedule an assessment of your commercial flat roof.