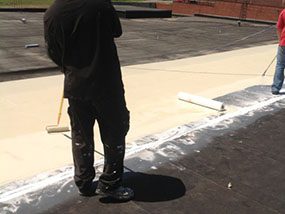 The team at The Roof Coating Company is one of only a few Norfolk VA commercial roofing companies with 60+ years of combined experience with commercial roof applications. We are committed to providing superior commercial roofing services to residents, building owners and property managers throughout Southeastern Virginia. A full-scale commercial roofing contractor, The Roof Coating Company handles everything from inspections and maintenance two repairs, restoration, replacement, and everything in between.
We understand that your industrial roof represent a significant investment of time and money, and we want to make sure you get the most out of it! Call us today at (757) 515-7050 to speak with one of our skilled craftsmen and found a solution that fits your needs. 
Serving Hampton Roads Commercial Roofing Needs
The Roof Coating Company serves the Hampton Roads area, encompassing Southeastern Virginia and parts of Northeastern North Carolina. Here are just a few of the cities we service:
Virginia Beach
Norfolk
Chesapeake
Newport News
Hampton
Portsmouth
Suffolk
Poquoson
Williamsburg
We also have storefront locations in Virginia Beach and Newport News. We are available Monday through Friday from 8 AM to 5 PM and Saturdays by appointment. 
Commercial Roof Restoration And Coating Specialists
As our name implies, The Roof Coating Company specializes in the roof restoration, via premium roof coatings. Our elastomeric coatings can be applied to virtually any existing roofing substrate, adding decades of life to your commercial roof and fixing those nagging problems, such as tears, failing flashing, and small leaks. 
A Focus On Sustainable Roofing Options
No other roofing company emphasizes sustainable, "green" options like we do at The Roof Coating Company.  Whenever possible, we try to integrate eco-friendly options into our roofing projects. Some of the ways we do this include:
Focusing on roof restoration rather than replacement
Using products that are good for environment
Focusing on high quality materials that will last a long time
Offering renewable solutions, such as roof coatings that can be recoated, decade after decade

Exemplary Customer Service And Communication
We work closely with customers to make sure that we understand their needs, wants, and vision.  Communication is frequent and open throughout the entirety of any project.  Our goal is to educate our clients so that they can make an informed, involved decision. 
Full Coverage Warranties
The products we use at The Roof Coating Company are of the highest caliber, so it makes sense that our warranties are, as well. We have a 0% failure rate on all jobs we have completed over the years, however, for your peace of mind, we also offer full coverage manufacturer's warranties the cover 100% of labor and materials. Warranty options range from 10 to 20 years. 
Call The Roof Coating Company Today!
The Roof Coating Company is Southeastern Virginia's commercial roofing contractor of choice. No matter the size or difficulty of your roofing job, The Roof Coating Company has the skilled labor and resources to quickly and effectively take care of it.  Call us today at (757) 515-7050 for a free professional consultation and no-obligation, hassle-free estimate.