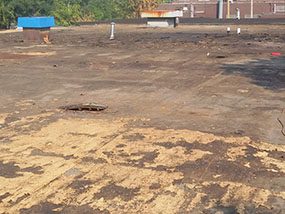 The Roof Coating Company is a Chesapeake VA flat roof replacement contractor. It's common for commercial building owners dread the day that they need a flat roof replacement. However, The Roof Coating Company strives to make this process as stress-free and efficient as possible. When repairing or restoring your roof is no longer worth it we'll replace your old roof with a properly-installed new roof that will last you decades. If you're in the Chesapeake, VA area, give us a call at (757) 515-7050.
Does Your Flat Roof Need Replacing?
People often tend to jump the gun on full roof replacements. When you break down the cost and the effectiveness of comprehensive repairs and restoration services, many roofs are worth salvaging. Obviously full roof replacements are more costly and disruptive than other services so make sure you know your options.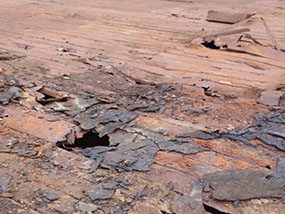 Our team of roofing technicians will evaluate your roof for free and advise you on the top options. This may be a full roof replacement, or it may be some other service, such as a roof coating. We specialize in restoring roofs and a roof coating does just that. The seamless membrane adheres to the surface of your existing roof to make it watertight. Plus, the reflectivity of a roof coating will lower your A/C bills significantly.
Roof coatings are affordable and easy to apply. In many cases, a roof coating is the best option for those looking to avoid or prolong the need for a full roof replacement. However, sometimes a full roof replacement is the best option. If your roof is beyond repairing or restoring, we can still fully replace your roof at a good price.
We Service a Wide Variety Of Flat Roof Substrates
The Roof Coating Company works with all types of flat roofs. This includes built-up roofing (BUR), modified bitumen, PVC, TPO, EPDM, metal, and more. Of course, each type of flat roof has its pros and cons. When we meet with you we'll run through your choices and help you decide on the best one for your building and budget.
Call The Roof Coating Company Today!
The Roof Coating Company is an expert commercial roofing contractor for clients in Chesapeake, VA. If you think you need a flat roof replacement, call us at (757) 515-7050 and we'll come have a look. We'll swing by onsite to give you a free, no-obligation estimate.