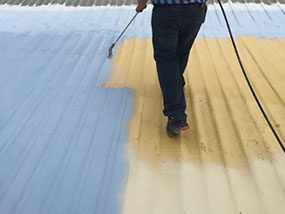 The Roof Coating Company is a full-service Chesapeake VA commercial roofing contractor. We provide a variety of services for clients in Chesapeake, VA. We've been around since 2010 but our team has over 6 decades of combined industry experience. For a free estimate, give us a call at (757) 515-7050.
Our Chesapeake VA Commercial Roofing Services
Whatever you need for your roof, The Roof Coating Company has you covered. One of our primary services is providing thorough roof inspections. Regular roof inspections will help prolong the life of your roof, keep repairs small, and prevent costly damage from occurring.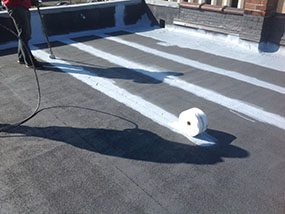 Our roofing technicians are experts in diagnosing a roof and repairing any issues. We also cover hail damage remediation and roof leak detection. If your roof is truly unsalvageable, The Roof Coating Company can give you a full roof replacement. Our professional roofers will strip off the old roof, clean up all debris, and properly install a new, long-lasting roof.
Meanwhile, we specialize in roof restoration solutions like roof coatings. A roof coating will make your building more energy-efficient and cut down on those bills. This is because roof coatings reflect sun rays which helps your building stay cool.
On top of this money-saving benefit, a roof coating will prolong the life of your roof by 10+ years. The seamless membrane is applied to your roof's surface to keep water out, even if your existing roof is plagued with issues. This service is cheap, non-disruptive to your business, and easy to apply.
About The Roof Coating Company
We know how important it is to partner with the best organizations. We've teamed up with Cool Roof Rating Council, ENERGY STAR, GacoFlex and more valued organizations in the commercial roofing industry. This helps us provide clients with high-quality and long-lasting commercial roofing solutions. Our goal is to form trusted business relationships with local clients who can rely on us for years to come.
Call The Roof Coating Company Today!
The Roof Coating Company is the top commercial roofing contractor around for clients in Chesapeake, VA. We're here to provide you with affordable and innovative commercial roofing solutions. Give us a call at (757) 515-7050 for a free onsite estimate.