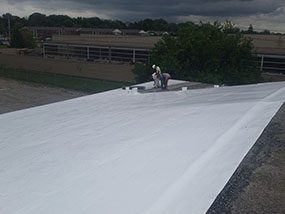 The Roof Coating Company is a Chesapeake VA single-ply roofing specialist. Single-ply roofing is one of the most popular and cost-effective choices for a commercial building. The Roof Coating Company works with a variety of single-ply roofing materials. We have over 60 years of combined experience in installing, repairing, restoring, and maintaining single-ply roofs. Give us a call at (757) 515-7050 to learn more about our single-ply roofing services.
EPDM Roofing
Commonly referred to as rubber roofing, an EPDM roof is one of the cheaper single-ply roofing options. An EPDM roof is super easy to install and the material itself is resistant to fire, wind, changing temperatures, and hail. These roofs have been known to last over 50 years when installed correctly and properly maintained. An EPDM roof typically requires very little maintenance and it is usually simple to repair.
TPO Roofing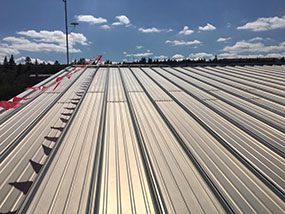 AKA Thermoplastic Olefin, this membrane is reinforced with a layer of polyester surrounded by TPO on the top and bottom. The top layer can be white which means it effectively reflects sun rays. This makes this relatively new single-ply roofing a very energy-efficient option for your building. TPO is known for being durable and resistant to chemicals, punctures, and more.
PVC Roofing
PVC (Polyvinyl Chloride) roofs come in a variety of thicknesses depending on your building. This is an extremely durable single-ply roofing material that is welded along the seams to keep your roof watertight. Choose from several color options. You can expect a PVC roof to last upwards of 3 decades. The flexibility of PVC makes it an ideal option for uneven roof surfaces.
Our Single-Ply Roofing Solutions Team
The Roof Coating Company specializes in providing long-lasting and energy-efficient roofing solutions to local clients. Whether you need your single-ply roof replaced, repaired, or restored, we have you covered. Our company relies on maintaining our pristine local reputation, so we always put our best foot forward for our Virginian clients.
Call The Roof Coating Company Today!
The Roof Coating Company is the contractor of choice for clients in Chesapeake, VA. We're experts in working with single-ply roofing. Our team will work with you throughout the process to ensure you're getting the most compatible roof for your building. For a free estimate, call us at (757) 515-7050.