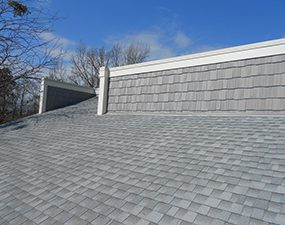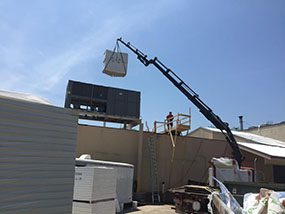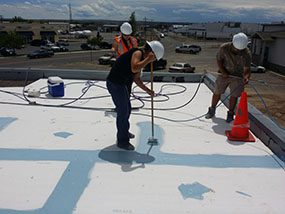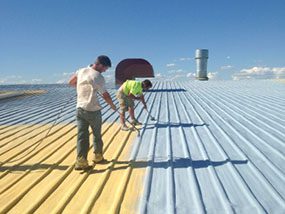 Newport News commercial roofing contractor, The Roof Coating Company, is your trusted roof company for comprehensive commercial roofing solutions. With years of industry experience, we are dedicated to providing top-notch roofing services, from replacements to repairs, using the latest materials and techniques. Whether you're a homeowner, business owner, or property manager, we have the expertise to meet your roofing needs. Read on to discover the wide range of services we offer, our meticulous roofing process, the benefits of roof coatings, and the assurance of our GAF-backed roofing warranty.
Complete Commercial and Residential Roofing Services
At The Roof Coating Company, we pride ourselves on being a one-stop solution for all your roofing needs in Newport News. Our team of skilled professionals is equipped to handle both commercial and residential projects with precision and expertise. Whether you're looking to replace your existing roof or need repairs to ensure its longevity, we've got you covered.
Our commercial roofing services encompass a variety of roofing materials and styles, including shingle, metal, bitumen, PVC, and TPO.
Our commercial roofing services are tailored to meet the specific requirements of businesses in Newport News. From flat roofs to complex industrial roofing systems, we have the knowledge and experience to execute projects of varying scales. Our commitment to quality craftsmanship and customer satisfaction sets us apart as the premier choice for commercial roofing solutions.
Types of Roofing We Offer
We offer an extensive range of roofing materials to suit your preferences and budget. Our expertise spans various roofing types, including:
Shingle Roofing: A popular choice known for its versatility, durability, and wide range of design options, shingle roofing is ideal for both residential and commercial applications.
Metal Roofing: With exceptional longevity and energy-efficient properties, metal roofing provides a modern and sleek appearance while offering superior protection against the elements.
Bitumen Roofing: Ideal for flat roofs, bitumen roofing provides excellent waterproofing capabilities and is highly resistant to UV radiation, making it a durable option for commercial properties.
PVC Roofing: PVC roofing offers exceptional durability, low maintenance, and strong resistance to chemicals and UV radiation, making it a reliable choice for commercial buildings.
TPO Roofing: TPO roofing combines the benefits of heat-weldable seams, energy efficiency, and cost-effectiveness, making it a preferred choice for many commercial applications.
Roof Coatings: In addition to traditional roofing materials, we specialize in roof coatings that can extend the lifespan of your roof and enhance its performance. These coatings provide seamless protection, reduce energy costs, and reflect harmful UV rays, contributing to a more sustainable and efficient roofing system.
Our Roofing Process
At The Roof Coating Company, we follow a meticulous roofing process to ensure that every project is executed seamlessly and to the highest standards. Our process can be summarized in the following steps:
Initial Consultation: We begin with a thorough consultation to understand your roofing needs, assess the current condition of your roof, and discuss design preferences and budget considerations.
Detailed Planning: Our team develops a comprehensive roofing plan, incorporating the chosen roofing material, design elements, and a timeline for the project.
Roof Preparation: We prepare the existing roof by removing old materials, conducting necessary repairs, and ensuring the surface is clean and ready for installation.
Installation: Our skilled technicians expertly install the selected roofing material, paying close attention to quality and precision at every step of the process.
Quality Inspection: Once the installation is complete, we conduct a thorough quality inspection to ensure that the roof meets our stringent standards and your expectations.
Clean-up: We leave your property as clean as we found it, removing any debris and ensuring a tidy and safe environment.
Consider Coating Your Commercial Roof
Roof coatings offer a cost-effective and sustainable solution to extend the life of your commercial roof. Here are some compelling reasons to consider roof coatings:
Enhanced Protection: Roof coatings provide a seamless layer of protection that shields your roof from weather elements, UV rays, and potential damage.
Energy Efficiency: Reflective roof coatings help to reduce heat absorption, leading to lower cooling costs and a more energy-efficient building.
Environmental Benefits: Roof coatings contribute to sustainability efforts by extending the life of your roof, reducing the need for roof replacement, and minimizing waste.
Cost Savings: Roof coatings can be a budget-friendly alternative to complete roof replacement, offering significant savings while still providing robust protection.
Seamless Application: The application of roof coatings is non-disruptive and can be completed quickly, minimizing business downtime.
Our team of experts can assess your commercial roof and recommend the most suitable coating solution to maximize its longevity and performance.
Our Roofing Warranty
At The Roof Coating Company, we prioritize your peace of mind. That's why we proudly offer GAF-backed roofing warranties on our projects. As a GAF-certified roofing contractor, we are authorized to provide these industry-leading warranties, which cover both materials and workmanship.
GAF is a trusted name in the roofing industry, known for its commitment to quality and innovation. With a GAF warranty, you can rest assured that your investment is protected against defects and issues that may arise over time. This warranty underscores our dedication to delivering superior roofing solutions that stand the test of time.
Call The Roof Coating Company Today!
When it comes to comprehensive and reliable commercial roofing services in Newport News, Virginia, The Roof Coating Company is your go-to partner. From a wide range of roofing materials to a meticulous process and GAF-backed warranties, we are committed to delivering roofing solutions that exceed expectations. Contact us today at 757-515-7050 to schedule a consultation and experience the difference firsthand. Your roof deserves nothing less than the best, and that's exactly what we provide.