When it comes to putting a roof on your commercial building, a commercial roofing company should not be chosen at random. There are plenty of commercial roofing companies that do shoddy work. Not only will this cost you more in the long run (since you'll need to hire companies to repair or replace the roof) but it's also a distraction to your business. With The Roof Coating Company, we do it right the first time so you won't need to think about your roof again for decades. For clients in the Virginia Beach, VA area, you can reach us at (757)-244-2305 for a free on-site inspection and estimate.
Why The Roof Coating Company?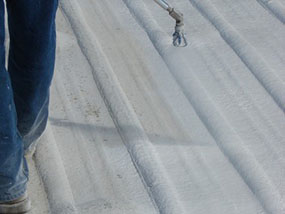 Since 2010, we've earned a strong reputation through our expert craftsmanship, professionalism, and honesty. Several customer testimonials attest to our high-quality service. While our company has only been around for about eight years, our combined team has over 60 years in roofing experience.
We specialize in restoring your roof. It is often possible to avoid a full roof replacement, but many companies will lead you to believe that a full roof replacement is necessary. At The Roof Coating Company, we pride ourselves in giving honest expert advice.
Sustainable Roofing Solutions
Our sustainable roofing solutions are perfect for commercial buildings. We specialize in roof coatings which creates a seamless, lightweight layer that adheres to the surface of your commercial roof. This non-intrusive process is quick, easy, and cost-effective.
You won't need to close up shop during installation like you would for a full roof replacement. Coating your roof not only stops any current leaks but also extends the lifespan of your roof so that it's as good as new. The reflectivity of our roof coatings protects your roof and building from harmful sun rays and can also cut down on your A/C bills by around 30%.
Call Us Today
For clients in the Virginia Beach, VA area, The Roof Coating Company is a commercial roofing company you can trust. Our team of experts will customize a roofing plan to suit your needs and preferences. Give us a call at (757)-244-2305. We're a full-service commercial roofing company that can help you out regardless of what type of roof you have or what kind of service you need.