Forming a business relationship with a trustworthy roofing company can be a big relief to commercial building owners. It's nice to know that someone has your back when your roof starts to give you problems. The Roof Coating Company provides a multitude of services for clients in Chesapeake, VA. For a free project estimate, call one of our personable representatives at (757) 244-2305.
A Full-Service Company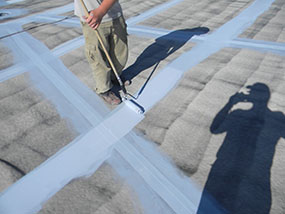 The Roof Coating Company has no shortage of commercial roofing services. This is key for clients because they can rest assured knowing that they can rely on us for all of their roofing needs. Our thorough roof inspections will extend the lifespan of your roof and help you avoid any serious issues.
Our roofing technicians are experienced in diagnosing a roof and fixing any problems. This includes ponding water, separation at the seams, and punctures in your roof's membrane. Our comprehensive roof leak detection enables us to leave your roof as good as new.
Roof Restoration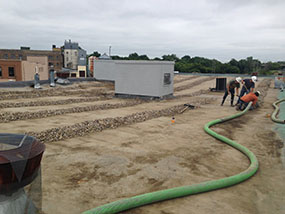 We're known for our ability to fully restore a roof which allows people to postpone the need for a full roof replacement. Our environmentally-friendly roof coatings will have your roof performing like new while simultaneously improving the energy-efficiency of your building. A roof coating creates a seamless membrane on top of your existing roof. It's lightweight and compatible with most kinds of commercial roofs.
Why Choose The Roof Coating Company?
We've teamed up with the best organization in the industry, include ENERGY STAR, Cool Roof Rating Council, and more. Our innovative roofing solutions are both cost-effective and long-lasting.  Our team has over 60 years of combined experience.
The Roof Coating Company makes a strong effort to maintain a healthy amount of communication with clients. We're a transparent company with hundreds of positive customer testimonials to back us up. As a local company, we know what it takes for a roof to handle the weather and climate of Virginia.
Call Us Today!
The Roof Coating Company is an industry-leading commercial roofing company. We're the go-to contractor for clients in Chesapeake, VA. We offer free roof inspections and estimates to our local clients. Call us today at (757) 244-2305 to schedule a time for us to swing by and have a look at your roof.