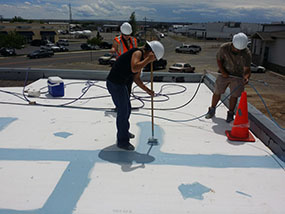 Those in Hampton, VA searching for a reliable roofing contractor are in luck! The Roof Coating Company is one of the top commercial roofing companies in all of Virginia. We're a full-service company known for our professional craftsmanship and affordable prices. Call us at (757) 244-2305 to schedule a free onsite roof evaluation.
Our Services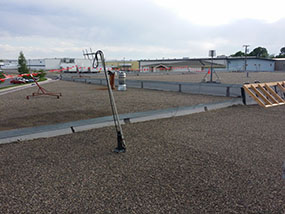 The Roof Coating Company has you covered with everything from roof inspections to roof replacements. Our roofing technicians are well-respected in the industry. With decades of combined experience, we know what it takes to ensure long-lasting roofing solutions.
Our roofers are experts in roof restoration. A roof coating applied by us can add over a decade to the life of your roof. This is one of the most effective ways to save money because a roof coating can be used as an alternative to a costly roof replacement. Plus, this service can cut down on your energy costs significantly.
Top Customer Care
At The Roof Coating Company, we always keep clients in the loop. We think that maintaining solid communication with our clients is one of the main ingredients to satisfactory end results. We even customize roofing solutions for our clients to better suit their building. Our team will work with you to explain your best options and recommend the best possible service for your roof.
The Roof Coating Company only uses the best roofing products on the market so that our client is set up with a roof that can withstand the test of time. We are partnered with many top businesses in the industry such as ENERGY STAR. There's no doubt that our experience is one of our greatest attributes. We know the ins and outs of the commercial roofing industry. Here at The Roof Coating Company, we don't accept anything less than high-quality results.
Call Us Today!
The team at The Roof Coating Company really looks forward to helping more local clients in Hampton, VA. It's no secret that we are one of the premier commercial roofing companies around. If you have any questions or if you'd like to schedule a free onsite roof evaluation, give us a call today at (757) 244-2305.