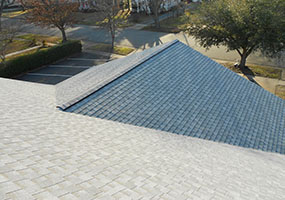 The Roof Coating Company is a commercial roofing coating and restoration company of choice for business owners and property manager of Hampton Virginia, and the surrounding regions. Founded in 2010, we bring more than 60 years of combined experience in the roofing industry to the table. From small repairs to complete coating systems, The Roof Coating Company has the skilled labor and materials to do any job, whether it be a commercial facility, industrial facility, or multifamily roof.
At The Roof Coating Company, we believe that sustainable solutions should be the first choice. We strive to integrate "green" options into our repair and replacement jobs whenever possible. Call us today at 757-244-2305 to learn more about the services we offer and start your relationship with a reputable, reliable commercial roofing contractor.
Sustainable Solutions
Before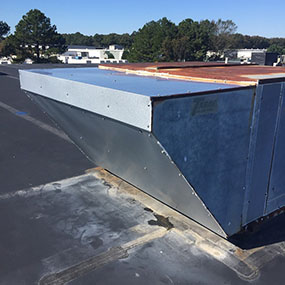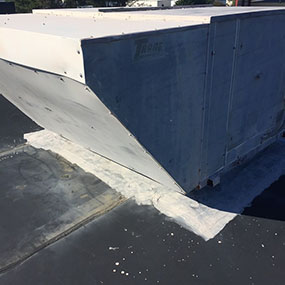 After
Whenever possible, we like to offer our customers "green" roofing options for their commercial/multifamily roof repair, restoration, or replacement. There are several ways we do this:
We recommend restoration or preservation via our roof coating system whenever possible, over roof tear-off and replacement. (Did you know studies show that as many as 80% of roofs are prematurely replaced?)
We specialize in premium roof coatings that can extend the life of your roof by decades.
We include sustainable options among our roofing material offerings. There are many options available to us today that eliminate the need for expensive tear-offs, reducing landfill waste and expensive labor costs.
We provide full-service solutions for commercial roof restoration, including roof inspections, repairs, leak detection, cool roof options, maintenance plans, insurance assistance, and more! Call today for a free estimate! 757-244-2305 
Exemplary, Affordable Workmanship & Customer Service
Before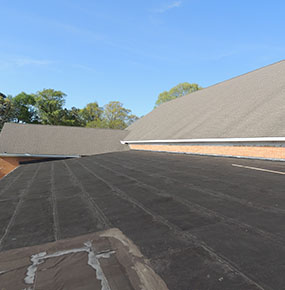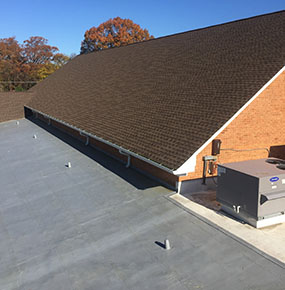 After
Founders Trish and Shawn Saunders began The Roof Coating Company after spending decades in the roofing industry and realizing they could provide higher quality more cost-effective roofing solutions while reducing their overall carbon footprint. Knowing the roofing industry has long been a primary a tear off and replace industry filling our landfills with tens of millions of pounds of roofing construction debris and understanding the environmental impact of our industry. We at The Roof Coating Company are reducing our overall environmental footprint by offering and educating consumers about sustainable roofing solutions.  we understand that quality workmanship and customer care are vital to doing business right … and when it's done right, neither must be compromised.
We work closely with our customers to truly identify their needs and respond accordingly. We collaborate with our customers to provide them with all the information they need to make an informed decision and implement the best solution. We don't move forward until everyone is in agreement. We believe that there is a realistic, sustainable solution to every roof problem. And we believe we can find the solution in most cases through sustainability.
Mission Statement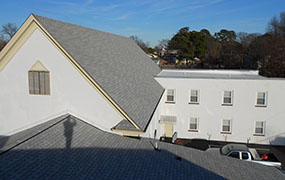 "We choose to be responsible stewards of our hometown and environment. In doing so, we seize each opportunity to reduce our carbon footprint, focusing on results that provide cost-effective roofing solutions through sustainability. Our commitment to quality can be seen through our technicians' dedication to their craft. Our customers can count on our dedication to excellence and quality workmanship."
If you are in need of commercial roof services in Virginia, turn to The Roof Coating Company. We service Hampton, VA, and the surrounding communities of Newport News,
Williamsburg, Yorktown – York County, Williamsburg, James City, Gloucester County, Norfolk,
Virginia Beach, Portsmouth, Chesapeake, Smithfield, and Suffolk. Call us today and experience the unparalleled roof service and customer care we offer – 757-244-2305.
Industries Best Warranty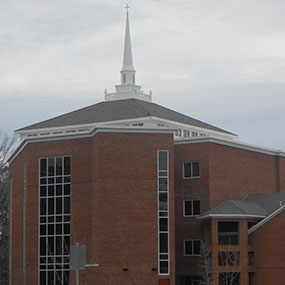 The warranties on the products installed by The Roof Coating Companies are of the best in the industry. Because of the quality our manufacturer's processes and their rigorous 60-years of product testing, we have confidence in the quality of their products; you will too! We have experienced a 0% failure rate on all of our applications over the years. Even on emergency repairs with our silicone roof coating product when proper preparation of the roof prior to install wasn't an option due to impending weather when a restaurant would have been flooded on opening night! This particular repair above the Dead Rise restaurant on Fort Monroe still held strong and was water-tight 5 years later.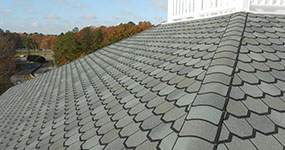 When you choose to have a complete roof restoration system installed by The Roof Coating Company you'll be covered by the industries leading full coverage manufacturer's warranty to cover 100% of the labor and materials against failure. If the system is installed over a factory mutual insured roof it will not void your warranty.
Warranty options available range from 10-years, 15 years, and 20-years. The detailed restoration process remains the same for all the warranties available as nothing changes except; the difference in coverage will depend on the final top-coat application and the mil thickness.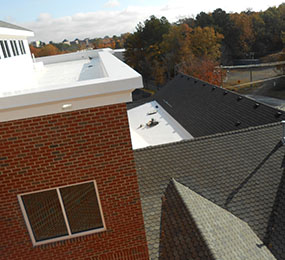 We offer the only roofing system in the industry that is not affected by ponding water. All other roofing manufacturers and systems including new roof installations have disclaimers against ponding water on the roof and voiding their warranty.
Renewal of your warranty is available by having the roof inspected, cleaned and applying an additional top-coat. This process is much less expensive as you will only have to expense the cleaning process and application of the top coat.
In order to receive the manufacturer's warranty for your roof it is required to have a technical representative from the manufacturer inspect, take core samples, do a moisture test, and write a detailed assembly letter; this will ensure the coating system is installed to their exacting details. 
The Roof Coating Company is the number one choice among commercial building owners and property managers in Virginia. We offer effective repair and restoration solutions for all your roofing needs. Our associates are licensed and certified, not to mention skilled, friendly, and courteous. Call 757-244-2305 today for your free professional consultation and estimate.